How to design a logo that will help your business succeed
Logo design is a bit of a paradox. It can be one of the easiest tasks in setting up your business, or it can be an epic struggle. Designing a personal logo is quite difficult, mostly because how we perceive ourselves can be at odds with what we need to communicate. Even these two visions will fluctuate for many businesses and individuals. But don't get me wrong. Logo design is also not an exclusive skill to graphic designers. Most people are absolutely capable of designing their own logo but it does take time and a little dedication to get it right. So here I've outlined a fairly simple process for those just taking their first steps in business or graphic design that you can apply to create your very own logo.
Research
For me, this is the most crucial part of any design process, and I think this applies to businesses, too. You should question everything. A great exercise to get the creative juices flowing is to go out into the world and look around you. Find an object, and ask yourself "why is it this way and not that?" You may well discover some flaws in the design of the object – like a handle that's designed to be aesthetically pleasing rather than for a good user experience. Or you might discover some very well designed objects – like braille footpaths. The point is to become aware of design and functionality in the objects in the world around you.
To begin researching your logo, start with a few simple questions:
What do my competitors logos look like?
What are the latest trends in logo design?
What is my business' brand personality?
A quick word on Branding
This last one means you should also be looking at branding your business. Branding is different to logo design, but a logo will be part of a brand, and a brand will be part of a logo. It sounds confusing, but the logo is just the mark that identifies your business. A brand will be a more holistic expression of your business – from how your business interacts with the world, right down to the colors you choose for your website. I will expand on this in a later blog, but for now look at your branding in just this context.
You should figure out your brand personality. Start with making a brand pyramid. This tutorial will help with the process. You may also want to try this quiz.
For your logo you will need to decide what colors represent your brand. Color is extremely subjective, but there are quite a few good resources out there (like this article) to help you think about color theory and the psychology behind colors in branding. It's a good idea to choose around 7 to 9 colors, even if you only use 1 or 2 in your logo, because you will likely use these other colors on your website, in infographics, and other collateral.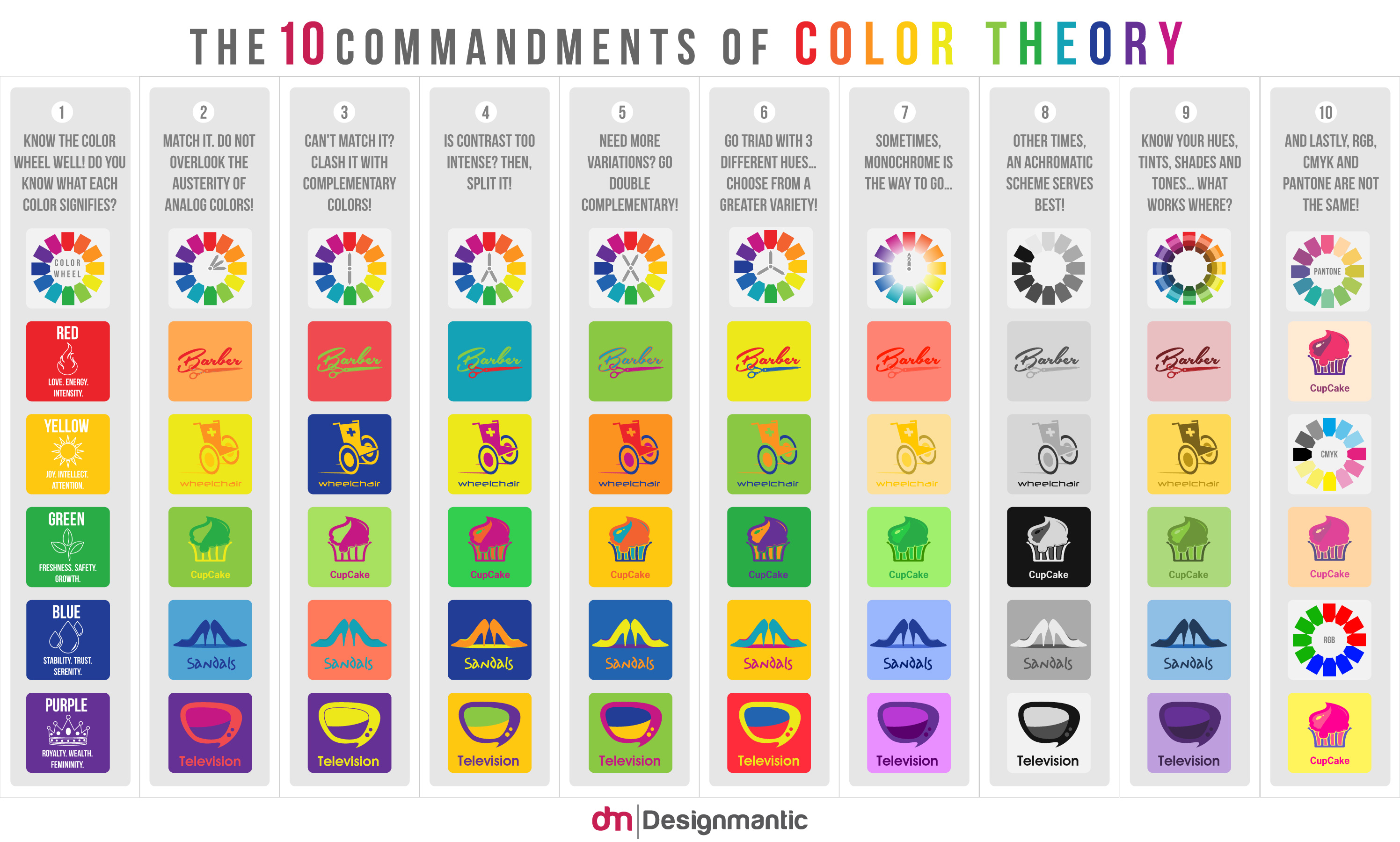 Courtesy of: Designmantic.com
Google is your friend. You have a world at your fingertips. The internet is smorgasbord of information.  Put it to work for you!
Moodboard
This is a kind of off the leash version of style tiles. Some prefer restrictions, but I think at this point why not set all those ideas bubbling away in your mind free. You can narrow your focus in the later stages of this step, but for now gather anything and everything that you find visually appealing that would relate to your brand. Websites, logos, fonts, photographs, patterns, fabrics, absolutely everything. If you're like me, you will make good use of Pinterest for this but it is important to note that sources on the web can disappear – blogs churn off their front pages. If you ever need to look at any of your specific images at a later date – perhaps you want to know who designed it, or what the font cost, make sure to get as close as you can to the source of the image – the store page or designer's portfolio for example.
Real world moodboarding is possible as well! Photographs are especially helpful. Some subject matter you might consider: textures like sand or concrete – is your brand a super hipster industrial cafe or a natural serene beach hangout? If you've already got your location sorted, a shopfront will also tell you how your brand will look in situ. Perhaps you've bought some abstract home decor, toys or furniture that you think would look great in a styled product shot. Moodboard it all!
Style Tile
After you've helped yourself to a visual banquet, now is a great time to start sorting it all into a style tile. Now I know it sounds like I've given you license to run free, but eventually you will come to a point where you will want to focus. You wouldn't mix your ice cream with free seafood, so you should start figuring out where your fonts, colours and imagery belongs within your brand's collateral. Begin with a set of simple objectives by deciding what you need. For example:  find two fonts, 3 colours and one shape or icon. You can still draw each of those objectives out in multiple moodboards if you like. And this is by no means an invitation to stop the flow of ideas. But it will help you focus your moodboard so you can make the most of it later. And if you are following this style tile guide, it will definitely make things easier when it comes time to create your website and print collateral.
So sort your colors, figure out your fonts, pick a pattern and we'll move onto…
What kind of Logo?
There are 3 main types of logos:
Pictoral Marks
These are just what they sound like. An image which is usually simplified down to an icon. If you are just starting out, these are the most difficult to use. These are rarely the only horse in a brand stable these days as they are generally used to depict global corporations with
Wordmarks
Wordmarks, sometimes known as logotypes, are basically what they sound like. Logos consisting of words or type. This sounds pretty boring until you realize it's an opportunity to get really creative. Sometimes very clever designers (such as Paul Rand,) will hide imagery in the words. Remember how we pinned our moodboards? Pinterest's logo is a great example of a wordmark where one of the letters forms the shape of a pin.
Combination marks
Combination marks are a combo of the two preceding types of logos. These are the most versatile logos because you can then separate the image and the text. Unlike stylized text, these are likely to have the two elements co-existing without too much fraternizing.
There are other sub-categories: lettermarks, mascots, emblems and abstract marks, but these all generally fall under one of the main categories so at this point you should be thinking about what would work best for your audience. Will your audience recognize you by a symbol alone, or will you need to lay some brand recognition groundwork first?
Sketching
Once you've got everything on your moodboard shopping list, it's time to start getting your ideas down on paper. I know, I am the worst! Paper? Bleh!
I must say this was probably my least favorite part of the process until I started doing it with every project. I spend a lot of time working digitally so my workflow is centered around that so it pushed me out of my comfort zone. It is necessary though, especially if you need to communicate your ideas to others. Maybe you're working with a designer, or maybe you need to test it on your partner (business or otherwise – feedback is always appreciated,) or maybe you just feel like ideas aren't real until they are before your eyes, sketching is a great way to facilitate all of the above.
At this point you'll mostly be looking at the shape and layout. THIS IS IMPORTANT: do this stage even if you are terrible at drawing. Sketching will help you figure out what shape you're going to end up with. As a 21st century human being you have some very refined visual instincts if you are willing to use them. Instincts which were built to avoid disaster. Think about how early man knew to avoid poisonous berries, or how flowers attract bees. It's simplistic but these instincts will help you avoid catastrophic failures early on. This is the stage where you can put them to use.
It may happen that you don't end up scanning these sketches at all. Or maybe you're leaning heavily on them to implement some custom type in your logo. Either way, this is a part of the process that helps to refine your logo.
Digitizing
If you have a strong concept, a good idea, and your branding is solid, you're ready to go digital. You'll want to work in Adobe Illustrator or Coral Draw – I love Illustrator myself, but that's just because it's how I was taught. Illustrator is available as part of a subscription service. If you're not willing to spend a whole lot on graphics software, it's easy enough to cancel a subscription. If you don't want to spend anything on graphics software there is also free vector software such as Inkscape or Vectr. Like I said, I use Illustrator which means my workflow is setup mostly around that, and learning new software can be costly, so I don't tend to go around testing the waters elsewhere. But I trust Creative Bloq's reviews on this topic, and both are recommended.
The important thing is to have a vector copy of your logo. For those who don't work with graphics on a regular basis this seems needlessly complicated. But for the next person who picks up your logo to alter in any way a JPG or GIF file is a bit of a pain to edit. So make sure to check out the graphics programs and make the right choice for you.
This part of the process isn't nearly as easy as choosing software though. It would be great if anyone could just pop their pics into a vector program and have it spit out a perfect logo at the end. The best advice I have is to search up a tutorial for using the pen tool and learn how to use trace image. Play around with these and get used to them. It's the best way to learn something new. If you don't have the time or inclination for this part, there are plenty of people out there who will do it for you for a reasonable price.
Revise
This is the final step for your logo, but should be considered an ongoing one. At this stage you should be asking:
Does this represent my business?
Does this represent my brand personality?
How long can I use this logo until it looks dated?
And you should be asking these questions because trends take some very fast turns. This is almost contradictory advice when contrasted with the fact that designers are always observing trends, but there is an important balance to be struck between fresh design and reliable, good design. As I outlined previously, good design is always on trend, so rely on the principles rather than flash in the pan trends.
It is also important to remember that your business is going to change – hopefully grow – into something that it wasn't in the startup phase. So that terry toweling red romper that you knitted for your toddler business a year ago probably won't work for (or fit) your teenage powerhouse today. At this point you'll probably want some expert advice and if you can afford it, great! Hit me up! If not, that's okay too! The entire purpose of this post is to help make the design process more accessible. But be prepared to put in the time and effort again.
Hopefully these tips helped you create a stunning logo for your business, and set you off on an exciting new branding journey. Do you want to share your moodboard? Want some feedback on a logo design? Add a comment below!